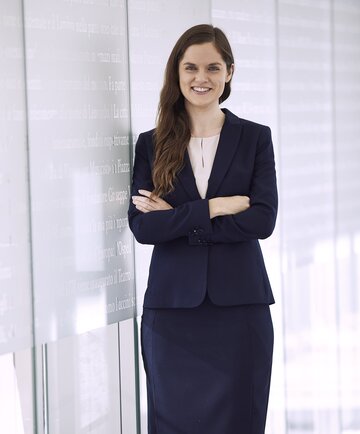 A passionate chemist with industry experience determined to find the best solution for your business
Charlotte Möller-Taylor is part of the chemistry practice group at HOFFMANN EITLE. Since joining HOFFMANN EITLE in 2017, Charlotte has advised clients from a wide range of technical fields within chemistry including polymer chemistry, batteries, food chemistry, and pharmaceuticals. Her primary practice concerns the prosecution and opposition of European patents.

Prior to joining HOFFMANN EITLE, Charlotte studied chemistry at the University of Oxford which included a final year research project in medicinal chemistry. She then completed a DPhil in organic chemistry at the University of Oxford with a CASE Award from Pfizer Inc., where she was awarded the final year AstraZeneca prize. Her doctoral thesis focused on the synthesis of sulfonyl-containing compounds which find applications in pharmaceuticals and agrochemicals. Following this, she joined the Neuroscience Medicinal Chemistry Department of Janssen Pharmaceutica, Johnson & Johnson. At Janssen, she developed novel methodologies and multi-step synthetic routes to incorporate underexplored motifs in target compounds for the treatment of Alzheimer's disease. Having worked in both academia and industry, Charlotte understands the importance of intellectual property to protect your innovations and commercial interests.

In her free time, Charlotte enjoys painting and hiking, as well as exploring different countries.
Master of Chemistry, MChem, University of Oxford, UK
Doctor of Philosophy, DPhil, University of Oxford, UK
British Patent Attorney
European Patent Attorney