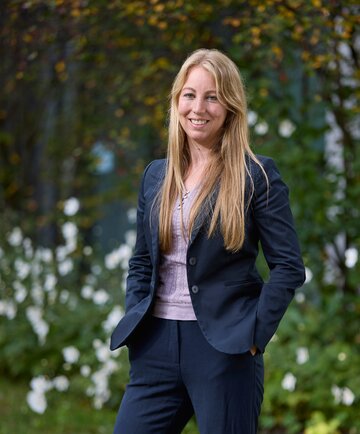 A patent attorney who likes to go into the detail of a case
Chloe Holloway started her career as a patent attorney in 2011 in Mexico City in a boutique IP law firm where she learned Spanish and assisted in patent litigation. She then returned to Europe to work for a large Italian IP firm in Milan before finally settling in Munich and joining HOFFMANN EITLE. At HOFFMANN EITLE, Chloe works on cases which involve a variety of different technical fields within chemistry, including organic chemistry, medicinal, and materials chemistry. She specialises in Opposition and Appeal proceedings as well as patent prosecution. Chloe also frequently provides validity and freedom to operate opinions.

Chloe grew up in the UK and studied chemistry at the University of Oxford. She was at St. Hilda's College and completed her Master's project with Dr. Moloney in the CRL. She then went to Manchester to do a PhD in asymmetric organocatalysis under the supervision of Prof. Dixon. As part of her PhD, she carried out a three-month CASE placement at UCB in Slough. Her PhD research led to two publications in prestigious chemistry journals.

Since 2012, Chloe has been attending AIPLA conferences in the US where she has presented and submitted articles.

In her free time, Chloe likes salsa dancing and spending time with her young family and Pomeranian dog.
MChem University of Oxford
PhD University of Manchester
Defining an invention by functional features and/or by the result to be achieved – A Review of Current EPO practice
Morten Garberg and Chloe Holloway; AIPLA Chemical Practice Chronicles, 2016, 4(1), 4.
Novel Chiral Skeletons for Drug Discovery: Antibacterial Tetramic Acids
Holloway, C.; Matthews C.; Jeong Y-C.; Moloney M.; Roberts, C.; Yaqoob, M. Chem. Biol. Drug Des. 2011, 78, 229
Direct Enantioselective Brønsted Acid Catalyzed N-Acyliminium Cyclization Cascades of Tryptamines and Ketoacids
Holloway, C.; Muratore, M.; Storer, I.; Dixon, D. Org. Lett. 2010, 12, 4720.
Enantioselective Brønsted Acid-Catalyzed N-Acyliminium Cyclization Cascades
Muratore, M.; Holloway, C.; Pilling, A.; Trevitt, G.; Storer, I.; Dixon, D. J. Am. Chem. Soc. 2009, 131, 10796.