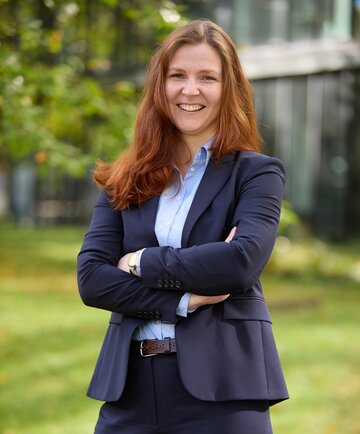 Where the detail is wrong, nothing is right
Besides her excellent technical understanding, Eva Gjuzi's work is characterised by her ability to spot the crucial details. In the field of Intellectual Property, she has been able to specialise in a wide number of cases from different areas of industry and research. Eva has extensive knowledge in examination and opposition proceedings before the European and German Patent Offices, is skilled in drafting patent applications, and assists clients in patent litigation.

Before joining HOFFMANN EITLE, Eva studied chemistry at the University of Hamburg with a research stay at the University of Cyprus. Her focus was on medicinal chemistry, organic-synthetic chemistry and inorganic solid-state chemistry. Throughout her PhD, she worked on porous, organic-inorganic hybrid materials and molecular magnetism.

In her spare time, Eva spends her time outdoors on a bike, horseback riding or hiking with her family and friends.
Dr. rer. nat. and M.Sc. in Chemistry at the University of Hamburg in the Institute of Inorganic and Applied Chemistry
B.Sc. in Chemistry at the University of Hamburg in the Institute of Organic Chemistry