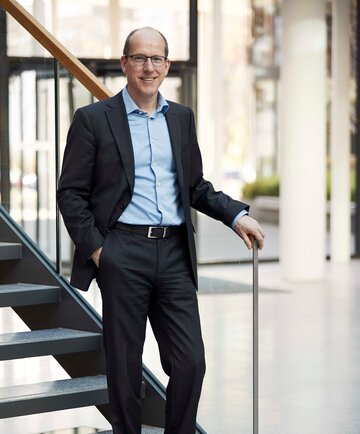 A seasoned client-driven IP professional
Stephan Disser, German and European Patent Attorney, is a partner in HOFFMANN EITLE's chemistry practice group. For more than 20 years, he has represented and advised clients in patent prosecution, opposition and litigation proceedings and provided legal opinions in a large variety of technical fields, such as pharmaceutical, polymer and catalytic chemistry and material science, in particular concerning silicon wafers and ingots, filtration media, coatings and security elements, just to name a few. Stephan has specific knowledge and experience in fields of chemistry at the borderline to physics.

Having worked some time in HOFFMANN EITLE's London office, Stephan is fluent in English. Based on his vast experience, Stephan knows what a particular client needs, and can provide spot-on advice.

Stephan likes training people in IP, being a mentor of their professional life concerning IP, and sharing his enthusiasm for IP with them, which he also has been doing for a decade as a lecturer at the University of Zurich for students of chemistry and business studies.

As leisure activities, Stephan enjoys jogging, yoga and workout, and reading a good book.
University of Frankfurt/Main (diploma in chemistry, 1995)
University of Frankfurt/Main (PhD in chemistry, 1999)
German Patent Attorney
European Patent Attorney
German Patent Attorney Bar Association
epi
FICPI
Society of German Chemists (GDCh)