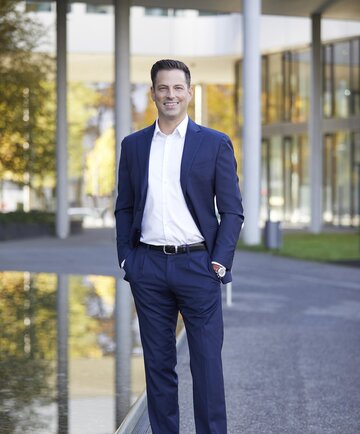 Stephan Klaus
Partner
Ph.D., B.Sc. (Chemistry), M.Sc. (Materials Science), German and European Patent Attorney 言語 DE | EN | FR | LB | ES 化学チーム Encrypted E-mail to Stephan Klaus vCard
詳しくはこちら
An experienced and versatile IP-specialist
Stephan Klaus, German and European patent attorney, is a partner in HOFFMANN EITLE's chemistry practice group. He has more than 10 years of experience in prosecution, opposition and appeal proceedings in a diverse variety of technical fields, including chemistry, medical device technology, materials sciences and pharmacy.

Stephan represents clients from all over the globe, covering Europe, United States, Japan, China and India. Prior to joining HOFFMANN EITLE in 2021, he spent some time in San Diego and New York City, where he worked with US law firms and supported his clients in building up and converting their IP portfolios to Europe.

Before becoming a patent attorney, Stephan gathered industrial experience in the R&D departments of adhesive and contact lens producers. He also prepared his Ph.D. thesis in close collaboration with BASF and the Federal Ministry of Education and Research (BMBF), which resulted in multiple publications and his co-inventorship of several patents.

Stephan is fluent in German, English, French and Luxemburgish and has a basic knowledge of Spanish.

Outside of work, Stephan enjoys travelling, practices a variety of sports and immerses himself in fantasy novels.
Ph.D. in polymer chemistry – Technical University Munich
Master in material sciences – joint program of the Technical University Munich, Ludwig-Maximilians-University Munich and University Augsburg
Bachelor in chemistry and biochemistry – Ludwig-Maximilians-University Munich
German Patent Attorney
European Patent Attorney
German Patent Attorney Bar Association
LES International
FICPI
Handelsblatt Legal Circle