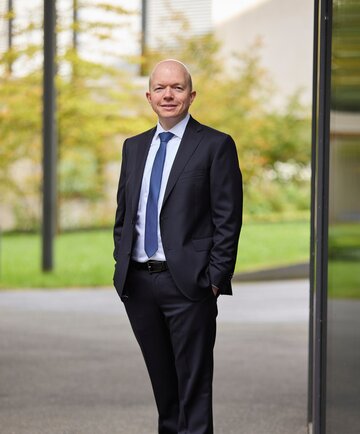 A dedicated patent attorney with a curious mind
Being a chemist by training, Axel Machotta appreciates the broad range of technical fields associated with his work, which include, among others, polymeric materials, batteries, pharmaceuticals and galvanic processes. Curiosity and dedication to a task are in his view as important as thoroughness und proper understanding of an invention. Axel strives for giving advice and providing solutions according to the client's needs.

Admiring HOFFMANN EITLE's spirit and diversity, Axel joined the team as a qualified patent attorney in 2013. Prior to his career in IP, Axel studied chemistry and specialized in his PhD on enantioselective Heck reactions and the development of asymmetric oxidative Heck-type processes. During postdoctoral studies at the University of California, Irvine, he worked on the total synthesis of a natural product. Axel was awarded scholarships from the DFG (IRTG 1038) and the DAAD. He is the author of several scientific publications; the EPO published his qualification exam on oppositions as a model solution.

In his free time, he enjoys travelling, hiking, theater visits and a good meal in a restaurant.
Diploma in Chemistry, Albert-Ludwigs-Universität, Freiburg (2004)
PhD in Organic Chemistry, Westfälische Wilhelms-Universität, Münster (2007)
German Patent Attorney
European Patent Attorney
German Patent Attorney Bar Association
epi
FICPI