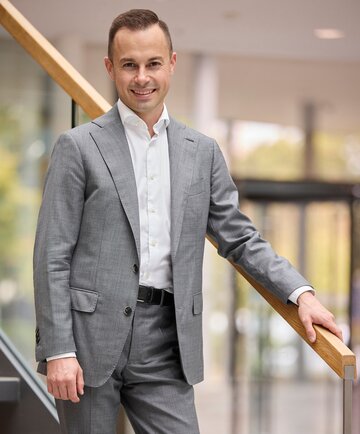 Boris Tchitchanov
合伙人
Dr., M.Sc. (Chemistry), German and European Patent Attorney 语言 EN | FR | DE | RU | BG | IT 化学团队 Encrypted E-mail to Boris Tchitchanov vCard
更多信息
Passionate about chemistry, IP law, and turning ideas into strategic advantages for his clients
Boris Tchitchanov advises clients in all aspects of technical IP rights – from the stage of initial patent landscape assessment, Freedom-to-Operate analysis, strategic drafting and prosecution, to grant and post-grant contentious proceedings, IP transactions, and licensing negotiations. He has developed and coordinated multiple worldwide patent portfolios relating to small molecule or peptide pharmaceuticals, sustained release formulations, targeted drug conjugates, cosmetics, or surfactants. He has strong expertise in the fields of organic and medicinal chemistry, sustainable and functional materials, and electrochemistry.

For Boris, having a holistic view on the client's activities, strengths, and goals, is just as essential as having in-depth understanding of every aspect in a case, and providing spot-on arguments as representative in examination, opposition, and appeal proceedings before the European Patent Office, the German Patent and Trade Mark Office, and proceedings before the German Federal Patent Court.

Before joining the IP profession, Boris studied Chemistry and Biochemistry at the Ludwig Maximilian University (LMU) in Munich, and Chemistry at the Swiss Federal Institute of Technology (ETH) in Zurich. He obtained his doctoral degree in the area of synthetic organic chemistry with a focus on physical organic chemistry, reaction kinetics, and organic functional materials with F. Diederich at the ETH Zurich. Boris has multiple research publications, including works relating to strain-accelerated formation of chiral butadienes; carbon-rich materials; synthetic methods allowing access to isoxazoles and spirocyclic azetidines; and fundamental studies of molecules with exceptionally short carbon–chlorine bonds. He obtained scholarships from the German National Academic Foundation, the Max Weber Program, and the Scholarship Fund of the Swiss Chemical Industry. Boris has first-hand internship experience in the chemical and pharmaceutical industries, in particular in small molecule drug discovery.

Boris is proficient in German, English, and Bulgarian. He also speaks French, Italian, and Russian.

Outside of work, Boris loves classical concerts and ballet performances. You will often find him road cycling, hiking, or skiing.
Dr.sc. in Chemistry (ETH Zurich, 2014)
M.Sc. in Chemistry (ETH Zurich, 2011)
B.Sc. in Chemistry and Biochemistry (LMU Munich, 2008)
German Patent Attorney
European Patent Attorney
German Patent Attorney Bar Association
epi
Society of German Chemists (GDCh)