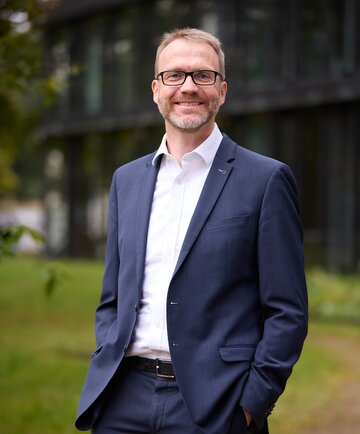 Christian Schreiber
合伙人
Ph.D. (Biophysics), B.A./M.Sci. (Physics), German and European Patent Attorney 语言 DE | EN | FR | ES 机械工程团队 Encrypted E-mail to Christian Schreiber vCard
更多信息
Christian Schreiber is a partner in the mechanical engineering practice group. He is experienced in representing clients of all sizes before the EPO and the German patent authorities and specializes in medical devices, biotech, automotive industry, and consumer products. He also regularly advises clients on the patent landscape of competitors and is experienced in inter partes proceedings. Keeping the client's business interests in mind, his aim is to both protect the inventions by his clients in the broadest possible way whilst also striving to make sure that the IP of competitors does not stand in the way of marketing the new products.

Christian joined HOFFMANN EITLE in 2010 as a trainee patent attorney. He qualified as a German Patent Attorney in 2013 and as a European Patent Attorney in 2015. Prior to joining HOFFMANN EITLE, he studied physics at Trinity College, University of Cambridge, UK (BA and MSci), and went on to do a PhD in biological physics at the University of Cambridge in collaboration with the Max-Planck-Institut für Physik komplexer Systeme, Dresden, Germany, which was funded by scholarships by the EPSRC and the German National Academic Foundation ("Studienstiftung des deutschen Volkes").

When not working, Christian enjoys running, travelling, visiting art galleries, and all things British.
University of Cambridge, BA, MSci – 2006
University of Cambridge, PhD - 2010
German Patent Attorney
European Patent Attorney
German Patent Attorney Bar Association
epi