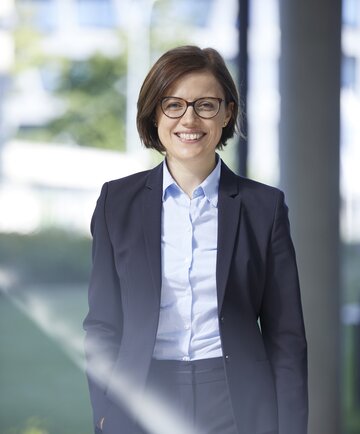 A physicist with enthusiasm for technology and innovation
With physics as educational background and particular experience in semiconductor nanostructures and solid-state electronics, Danche Spirkoska Jovanov's practice mainly focuses on telecommunications and electronics. The knowledge gained during her studies as well as her research work supports her in tackling the essence of the various inventions she handles. Danche's main fields of work include patent drafting, examination and opposition proceedings before the European Patent Office and the German Patent and Trademark Office, appeal proceedings, nullity and litigation proceedings.

In her day-to-day-work, she is dedicated to finding a customized solution to each client's needs for protecting their intellectual property rights and enjoys the international environment at HOFFMANN EITLE as well as the communication with clients around the world.

Prior to joining HOFFMANN EITLE, Danche has studied applied physics at the Ss. Cyril and Methodius University in Skopje, Republic of North Macedonia. After obtaining her Applied Physics Engineer degree in 2004 in the pursuit of future challenges in an international environment, Danche has chosen to continue her studies at the Technical University of Munich. She received her Master of Science in Engineering Physics degree from the Technical University Munich in 2007 and continued with her PhD studies at the Walter Schottky Institute of the Technical University of Munich. She was awarded a PhD in 2010 from the Technical University Munich in the field of physics of semiconductor nanowires. Being deeply thrilled by this rapidly developing research field she continued working as a post-doctoral research fellow at the Walter Schottky Institute until early 2012. Her research work has resulted in numerous well cited scientific publications.

In her spare time, Danche enjoys reading and outdoor activities with her family.
Applied Physics Engineer (Ss. Cyril and Methodius University in Skopje, Republic of North Macedonia)
Master of Science in Engineering Physics (Technical University Munich)
Dr. rer. nat. in Physics (Technical University Munich)
German Patent Attorney
European Patent Attorney
German Patent Attorney Bar Association
epi