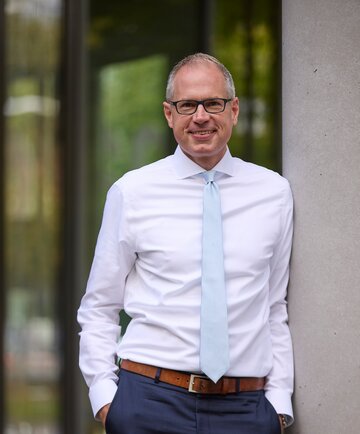 Daniel Grohs, German and European patent attorney, is a partner in HOFFMANN EITLE's Chemistry practice group. For more than 15 years, he has been representing and advising clients from various technical fields, including organic chemistry, functional polymers, pharmaceuticals, batteries, display and filter technology.

Daniel is an enthusiastic patent attorney who quickly gets to the core of an invention. He has a great talent in providing clear-cut summaries of all decisive issues, even in more complex cases. His main area of work concerns opposition and appeal proceedings before the European and the German Patent Office, nullity actions before the Federal Patent and Supreme Court, opinion work and patent prosecution. Daniel has extensive litigation experience with patents involving pharmaceuticals, microorganisms, polymers, e-readers, food products and packaging.

Before joining HOFFMANN EITLE in 2005, Daniel studied chemistry at the University College London (GB) and the University of Hamburg. During his Diploma thesis, he focused on microfluidic systems while his PhD studies were at the boundary of synthetic organic chemistry and medicine. After his qualification in the IP field, Daniel gained experience in the chemical industry as in-house patent attorney before he returned to HOFFMANN EITLE. Understanding in-house needs helps Daniel to provide hands-on advice to clients who value his straightforward guidance.
Diploma in Chemistry (Dipl. Chem.)
Dr. rer. nat.
German Patent Attorney
European Patent Attorney
German Patent Attorney Bar Association
epi
VPP
Society of German Chemists (GDCh)