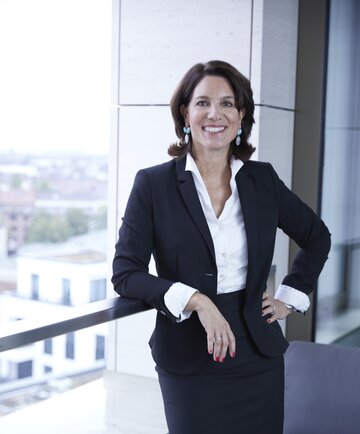 Profound expertise in the trademark sector combined with a solution-oriented and pragmatic approach.
Isabelle Kuschel is a partner in HOFFMANN EITLE's Trademarks & Designs practice group and has been working as an attorney-at-law specializing in intellectual property law with more than 15 years of expereince.

As a certified specialist for IP law, she advises national and international clients in a wide range of industries in all matters of trademark law, design law and competition law and helps clients in defending and enforcing IP rights in and out of court.

Her practice includes advice from the development of customized filing strategies to the defence and enforcement of IP-rights in and out of court. In addition, Isabelle has a vast experience in drafting and negotiating agreements relating to IP rights. Her way of working is solution—focused and she is dedicated to providing advice addressing the client's practical needs.

Due to her negotiation skills, Isabelle was able to settle various conflicts out of court. If necessary, she vigorously fights for her client's interests in court proceedings.

Isabelle regularly participates in international conferences on intellectual property rights (e.g. INTA and ECTA) which has enabled her to build up a reliable network all over the world.

Isabelle studied law at the University of Passau (Germany) and the University of Toledo, Castilla-La Mancha (Spain). She was admitted to the bar in Germany in 2005. She graduated from a master's course at the University of Edinburgh, Scotland, where she was awarded the title Master of Laws (LL.M.).

In her spare time, Isabelle enjoys her family and cooking with friends with a glass of wine. Besides running, she enjoys exercising yoga and is passionate about skiing. You will also often find her making plans for the next trip abroad.
University of Passau, Germany: First Juridical State Examination 2002
University of Toledo, Castilla-La Mancha, Spain: Erasmus Studies 2000
University of Edinburgh, Scotland: Postgraduate Program International Commercial Law (LL.M.) 2003
District Court of Nuremberg: Second Juridical State Examination in 2005
German attorney-at-law
Certified IP Specialist
INTA
ECTA
GRUR
German Bar Association (DAV)
The Legal 500
"Very good cooperation with Isabelle Kuschel. Competent advice, fast response times, good and timely follow-up of processes."
"Isabelle Kuschel proves to have excellent comprehension skills, is very conscientious in handling cases and meeting deadlines."
"With a broad range of IP expertise and experience, the firm has successfully established itself as a renowned IP law firm in Europe. This is evidenced by the high reputation and recognition of its clients. In addition, the organized structure within the firm helps to strengthen its teamwork."