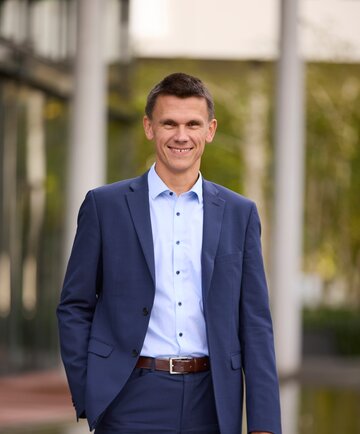 Combining a sense of strategy with a keen scientific understanding
With more than 10 years of experience as a patent professional, Lasse Weinmann's practice focuses on biotech and pharma cases. His areas of scientific expertise include therapeutic proteins such as antibodies and blood factors, CAR T-cells, diagnostic methods, sequencing technologies, vaccines, and small RNA-based drugs. Lasse represents both international and domestic clients, including major international biotech and pharma companies as well as domestic university clients and spin-off companies. He is frequently involved in German nullity proceedings, multinational invalidity and infringement disputes in close coordination with international litigation teams, as well as in EPO opposition/appeal cases. Lasse also provides opinion work to his clients, including FTO and invalidity opinions, and represents his clients in due diligence discussions with potential investors.

Whether an academic client, a spin-off company or a large biotech or pharma company, Lasse enjoys working with each client, with a keen understanding of the client's needs, the technology involved, and the strategic framework, in order to identify the best solution for the client. Lasse was ranked as an IP Rising Star Germany, Managing Intellectual Property (2019 and 2020) and as a Notable Practitioner, Managing Intellectual Property (2021 and 2022).

Prior to joining HOFFMANN EITLE in 2010, Lasse completed his doctoral thesis at the Max-Planck-Institute of Biochemistry in Martinsried/Munich. He then worked as a postdoc with a large biotechnology company in California/USA (2009-2010). Lasse is an author of more than 10 scientific publications in international peer-reviewed journals and received a scholarship from the Boehringer Ingelheim Fonds.

Lasse enjoys hiking, cycling and having barbecue with family and friends.
Diploma in Biochemistry at Eberhard Karls Universität Tübingen
Dr. rer. nat. in Biology at Ludwig-Maximilians-Universität München / Max-Planck-
Institute of Biochemistry
German Patent Attorney
European Patent Attorney
German Patent Attorney Bar Association
epi
FICPI
IP Rising Star Germany, Managing Intellectual Property (2019 and 2020)
Notable Practitioner, Managing Intellectual Property (2021 and 2022)