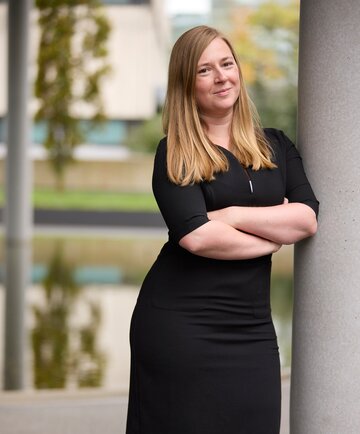 Marie Isabel Thomson
Ph.D. (Chemistry), M.Chem, German and European Patent Attorney, UPC Representative 语言 DE | EN 化学团队 Encrypted E-mail to Marie Isabel Thomson vCard
更多信息
Skilled chemist with a passion for intellectual property
Marie Thomson's technical expertise in the fields of organic chemistry, medicinal chemistry and computational chemistry, stems from her numerous research projects throughout her studies and work placements. Marie studied Chemistry with Medicinal Chemistry (MChem) at the University of St Andrews. This included a placement year working for BASF (Fine-Chemicals Department) and completing a final year research project in medicinal chemistry. Her doctoral thesis (PhD) was completed at the University of Edinburgh and focused on the biomimetic organic synthesis of natural products, as well as computational modelling studies. She has received several scholarships and her research has resulted in multiple scientific publications.

Marie was born in Munich and raised bilingually (English and German), before spending several years living abroad in the UK and Australia. Her international background is reflected in the client base Marie works with, which includes small to large businesses and academic institutions from around the world, such as Germany, Switzerland, the UK, the US, Russia, Korea and Japan. Marie specialises in examination and opposition proceedings before the European Patent Office and the German Patent and Trademark Office. Her internship at the Landgericht München (Munich District Court) has provided Marie with invaluable insights into patent infringement cases in Germany.

Before joining HOFFMANN EITLE in January 2019, Marie completed her PhD at the University of Edinburgh in Scotland.

In her spare time Marie can be found outdoors – during summer she can be seen hiking in the mountains or playing a round of golf, and in winter she enjoys spending time skiing.
PhD, University of Edinburgh, UK
MChem, Chemistry with Medicinal Chemistry with External Placement (BASF), University of St Andrews, UK
European Patent Attorney
Representative before the Unified Patent Court