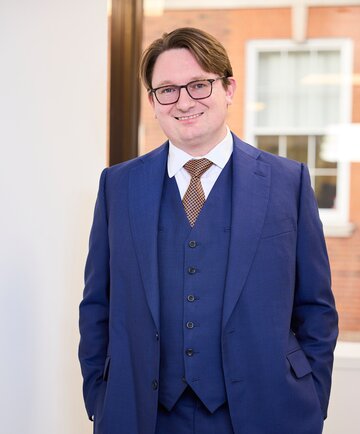 Innovation happens at the interface
Mark Jones is experienced in both contentious and non-contentious proceedings before the European and British patent offices, as well as providing strategic advice on global patent prosecution and litigation. His experience spans high-tech manufacturing, automotive and aerospace engineering, applied physics, scientific and medical devices, consumer goods, energy technology, extractive industries, metallurgy and materials science. In patent prosecution, Mark supports businesses at all stages of growth in obtaining patent protection which delivers value within an integrated IP strategy. In his local jurisdictions, Mark aims to obtain commercially valuable scope of protection in a cost-efficient manner. Many of the portfolios on which he advises are multi-jurisdictional, and Mark develops strong relationships with local counsel to deliver client-centric prosecution for modern, global markets. In contentious matters, Mark delivers strategy and advocacy to defend valuable rights and deliver legal certainty with respect to competitors, effectively using EPO Opposition and Opposition Appeal procedures. Mark also has in-depth experience in supporting and co-ordinating large-portfolio patent litigation, including in Germany and the Netherlands. Mark regularly presents on key developments in UK and European law and practice internally as part of our knowledge-sharing programme, internationally at practitioner conferences, and in small-group workshops to support and update clients and partner law firms.

Mark read physics at Oxford University (Lincoln College), graduating with first class honours in 2003. Particular specialisations in his undergraduate studies included renewable energy technology, semiconductor, optical and micromagnetic devices, condensed matter physics and particle physics. In 2006, Mark completed his doctorate under jointly the Department of Materials Science and the Clarendon Laboratory, Oxford University, developing molecular optical and magnetic memory technology for advanced computing applications. During his studies, he worked with defence agencies on both sides of the Atlantic in respectively aerospace engineering (undergraduate) and communications and cryptography systems (post-graduate). Following his academic career, Mark joined HOFFMANN EITLE in 2008. He obtained (with Distinction) the Certificate in Intellectual Property Law from Queen Mary University of London in 2009. In 2011, Mark was awarded the Ballantyne Prize by the Chartered Institute of Patent Attorneys in recognition of outstanding performance in the Infringement and Validity paper of the British Qualifying Examination.
D.Phil. (Oxon)
M.Phys. (Oxon)
British Patent Attorney (2011)
European Patent Attorney (2012)
Member of the European Patent Institute
Member of the Chartered Institute of Patent Attorneys
and the Institute of Physics