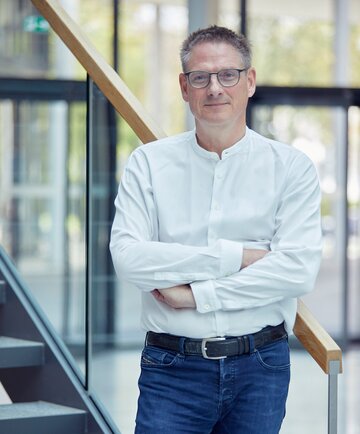 Matthias Wolf is a partner in HOFFMANN EITLE's Chemistry practice group. He specializes in opposition and appeal cases before the European Patent Office, for both Patentees and Opponents, but also in examination proceedings before the EPO or the German Patent and Trademark Office. He supports his clients in a broad range of technical fields, including photochemistry, pharmaceuticals, agrochemicals, polymer and fluoropolymer chemistry, heat transfer agents, textile chemistry, printing technology and magnetic and optical materials.

Grown up in and around Hamburg, Matthias studied chemistry in Göttingen, where he graduated in 1988 with a diploma thesis in physical chemistry. The doctoral thesis, funded by the Max Planck Society, on the kinetics and dynamics of reactions of small radicals in the gas phase in combustion processes, followed in 1992. A postdoctoral fellowship awarded by the German Research Association (DFG) then led him to Sandia National Laboratories, Livermore, CA (US), working in the field of atmospheric pollution mechanisms. A further postdoctoral research project, now at the ETH Lausanne (CH) was in the area of heterogeneous reactions in the upper atmosphere, before Matthias joined HOFFMANN EITLE in early 1995.

With his solid background in chemistry, acquired in international scientist teams, and with now more than 25 years of experience in IP, Matthias very much enjoys advising his clients, be it from Japan, the United States or Europe, in all aspects the Patent system in Europe brings about.

In his spare time, you can find Matthias on his road or gravel bike, in his kitchen cooking for his family and friends, or just in a chair enjoying music, reading and a glass of good wine.
Dip. Chem., University of Göttingen
Dr. rer. nat., University of Göttingen
German Patent Attorney
European Patent Attorney
German Patent Attorney Bar Association
epi
FICPI
VPP