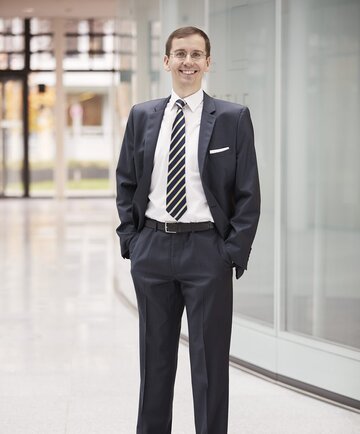 Creatively Thinking Patent Attorney With Thirst for Knowledge
Michael Müller studied materials science at the University of Jena, Germany (2001-2006). During his studies, he also spent time as an ERASMUS exchange student reading chemistry and as a visiting researcher in the Department of Materials at the Swiss Federal Institute of Technology Zurich (ETHZ), Switzerland (2004). He achieved his M.Eng. with distinction in Jena in 2006. He then moved on to become a postgraduate student in the Department of Materials and at The Queen's College, University of Oxford, UK, carrying out doctoral studies in the field of atom probe tomography and, in particular, its applications to nanoscale characterization of compound semiconductors (2006-2010). Following this, he worked as a postdoctoral research assistant with the British Engineering and Physical Sciences Research Council (EPSRC) in the Atom Probe Group at the Department of Materials, University of Oxford, and was a Junior Dean of The Queen's College Oxford (2010-2011). During his years in academia, he obtained extensive hands-on research experience in various technical areas, including glass technology (photosensitive glasses), characterization of solid oxide fuel cells, nanotomography in particular atom probe tomography focusing on III-V compound semiconductors and precipitation hardening in aluminum alloys. Michael held numerous research scholarships awarded by, for example, the British Engineering and Physical Sciences Research Council (EPSRC), the German Academic Exchange Service (DAAD), the German National Academic Foundation and the Oxford University Vice Chancellor's Fund.

Following his academic career path in engineering science, Michael decided to diversify and expand his knowledge and thus became a trainee patent attorney at HOFFMANN EITLE in Munich (2012 to 2015). His trainee period also included internships for trainee patent attorneys with both the IP judicial bodies of the Munich Regional Court (2014) and the Munich Higher Regional Court (2015). Michael obtained both the German and European patent attorney qualifications. From 2016 to 2019, he undertook a part-time university master-level course in mediation with a focus on commercial mediation and intercultural mediation. He also attended a part-time university LLM course on European IP law, focusing on international private and process law, patent procedures in Germany, France and the UK and comparative law.

Michael's day-to-day work consists of obtaining, defending, attacking and enforcing patent rights in the fields of mechanical engineering and physics with a focus on materials technology, alloys, coatings, medical technology, implant technology and consumer goods. He has particular expertise and practical experience in the area of materials science across all classes of materials.

Michael also has special interest and knowledge in the field of negotiation techniques and Alternative Dispute Resolution ("ADR"), in particular commercial mediation and intercultural mediation with links to intellectual property and beyond. He co-founded HOFFMANN EITLE's mediation practice group.
Certificate in Mediation, University of Hagen, Germany, 2019
D. Phil. in Materials Science, University of Oxford, UK, 2010
M. Eng. in Material Science, University of Jena, Germany, 2006
German Patent Attorney (2015)
European Patent Attorney (2016)
Mediator (2018)
German Patent Attorney Bar Association
FICPI