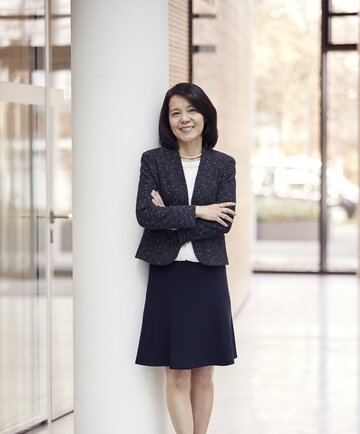 Mieko Matsuzawa, European patent attorney, is Senior Counsel in HOFFMANN EITLE's Chemistry practice group. Mieko was born and grew up in Japan. She has been advising and representing Japanese clients in European patent prosecution and opposition across many technical fields including bioengineering, medical device technology, biomaterials, and inorganic materials, particularly semiconductor devices, metals and alloys.

After studying bioengineering in Japan, Mieko moved to the United States. She completed her doctoral thesis in an interdisciplinary technical field, where neuroscience intersects with material science. Her Ph.D. studies were sponsored by the Department of Defense and she was awarded her Ph.D. from Johns Hopkins University (Maryland, USA). While a Ph.D. student, she worked at various research institutions including Johns Hopkins University Applied Physics Laboratory, National Institutes of Health, Food and Drug Administration and Naval Research Laboratory. After a short visit to Germany as a post-doctoral scientist at the Max Planck Institute in Mainz, she joined the Science and Technology Agency in Japan and was positioned in RIKEN (Wako, Saitama) in a group headed by a German scientist. She then moved back to the United States to continue her research project sponsored by the Department of Defense.

In 2000, Mieko made a big change in her career, deciding to pursue a new path in the field of intellectual property. She started her training on the job in an IP law firm in Tokyo, studied IP law at the Franklin Pierce Law Center (New Hampshire, USA) and passed the US patent bar exam while she was a summer associate at an IP law firm in Washington, DC. Although her registration before the USPTO expired in 2008, she has been admitted to the NY bar and the DC bar.

With her unique professional and cultural backgrounds, Mieko enjoys interfacing between clients in Japan and the partner attorneys in HOFFMANN EITLE for complex matters over a wide range of technical fields. She is a frequent traveler to Japan.

Mieko enjoys playing the music of Johann Sebastian Bach and listening to Yonezu Kenshi.
Franklin Pierce Law Center, J.D.
Johns Hopkins University, Ph.D.
Tokyo Institute of Technology, M.S.
University of Tsukuba, B.S.
European Patent Attorney
Attorney-at-law (State of New York and Washington, DC)