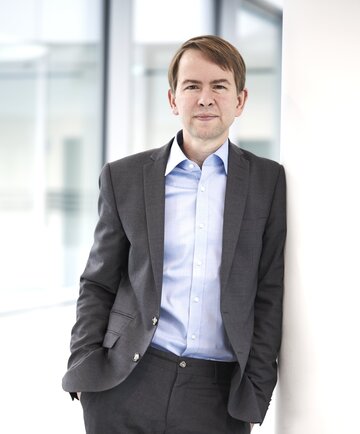 Having worked as a patent professional for over 14 years, Stephan Steinmüller's focus lies on applied physics and mechanical engineering. His client base ranges from small- to large-size companies, in particular, in the fields of semiconductor technology and medical devices/applications. Stephan mainly concentrates on patent prosecution at the European Patent Office and the German Patent and Trademark Office, including opposition and appeal proceedings, but is also experienced in patent litigation. Frequently, he advises and represents his clients all the way from drafting a patent application to the grant of a patent and post-grant proceedings.

During his education in Cambridge, Stephan gained experience in working in an international environment. This background benefits his practice at HOFFMANN EITLE where he often manages his clients' patent portfolios also in various countries outside Europe, in particular, in Asia and America. In order to maintain a close contact with his foreign clients and colleagues, he regularly travels abroad for personal meetings and arranges video conferences.

Before joining HOFFMANN EITLE in 2007, Stephan completed his PhD in physics at the University of Cambridge. Subsequently, he worked as a post-doctoral scientist at the Cavendish Laboratory, University of Cambridge, researching electron spin transport and spin dynamics in magnetic nanomaterials. He is the author of numerous scientific journal articles in the fields of semiconductor devices and nanomagnetism.

In his spare time, Stephan likes travelling, reading and playing chess.
Technical University Munich (Dipl.-Phys. in 2001)
University of Cambridge (PhD in 2004)
German Patent Attorney
European Patent Attorney
German Patent Attorney Bar Association
epi
FICPI