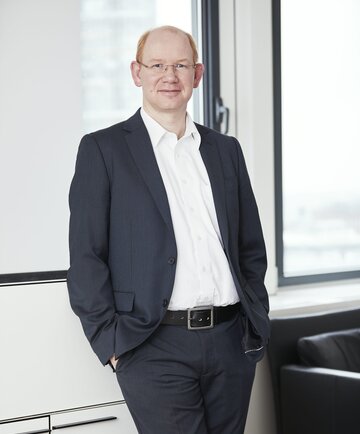 An experienced representative with the decisive eye for detail
Timo Pruss is the local contact for the chemistry practice group in our Düsseldorf branch, but also represents many clients from outside Germany, in particular from Japan and Europe. His practice focuses on prosecution before the EPO, with a major part of his work being dedicated to opposition and opposition appeal proceedings.

Timo holds a diploma degree in chemistry (University of Münster, Germany) and a Doctor of Philosophy in Chemistry (University of York, UK). With a diploma thesis on ion-conducting solids and a doctoral thesis on heterogeneous catalysis, Timo has a strong technical background in solid state and polymer chemistry. His current cases involve pharmaceuticals, medical devices, polymers, battery technology and inorganic composites.

His work approach is hands-on and characterized by both a view on the overall picture as well as an eye for the crucial legal and technical details of a case. Together with thorough preparation, a focused presentation style, and the ability to respond quickly to new arguments, this makes him a strong representative for both Opponents and Patent Proprietors in contentious proceedings. Here, he benefits from more than 10 years of experience in oral proceedings.

In this spare time, Timo enjoys family time with his two daughters, hiking, skiing and playing tennis.
Diplom-Chemiker (University of Münster, DE, 2000)
Doctor of Philosophy in Chemistry (University of York, GB, 2004)
German Patent Attorney
European Patent Attorney
German Patent Attorney Bar Association
epi