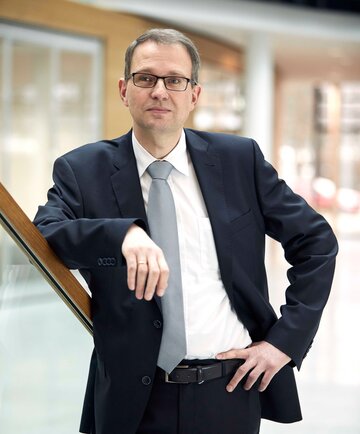 An analytical mind with a strong focus on the facts that matter
Veit Frank is active as a German and European Patent Attorney in Examination, opposition and appeal proceedings before the German Patent and Trademark Office, the Federal Patent Court and the European Patent Office, in nullity actions, litigation and preliminary injunction proceedings, especially in the areas of mobile communications, digital and analogue circuits and systems, microwaves and antenna technology. However, also electronic control systems like field-oriented controllers for induction machines are among his specialties.

He studied electrical engineering at the Technical University of Aachen (RWTH), with emphasis on the fields of telecommunications, high frequency technology, control engineering and circuit design, graduating in 1988. He received a scholarship from the Technical University of Aachen for post-graduate studies and research in the field of digital telecommunications at the Imperial College, London. He was awarded an M.Sc. by the University of London in 1989. He is with HOFFMANN EITLE since 1990, German Patent Attorney since 1993, European Patent Attorney since 1994.
German Patent Attorney
European Patent Attorney
German Patent Attorney Bar Association
epi
FICPI
iam 1000 states that Veit Frank "is an electrical engineering trailblazer who publishes widely" and iam 1000 highly recommends him "individually for prosecution and nullity."