Start of the UPC Sunrise Period postponed to March 1, 2023
News | 06.12.2022
The start of the sunrise period, i.e. the three month period preceding the actual start of the Unified Patent Court (UPC), has been postponed by two months and is now scheduled for March 1, 2023. (Link)
The initial roadmap foresaw January 1, 2023 as the beginning of the Sunrise Period with an entry into force of the UPCA on April, 1 2023.
At the same time, the European Patent Office (EPO) publicly announced that mechanisms for requesting early unitary effect and delaying grant will still be available from January 1, 2023, irrespective of the delay to the start of the Sunrise Period. (Link)
Please find more information regarding the UPC on our dedicated webpage.
Current Roadmap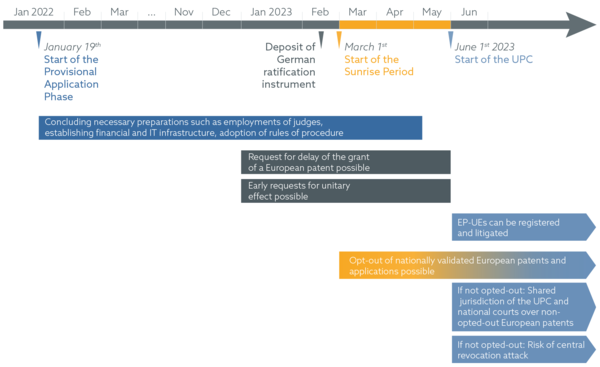 back