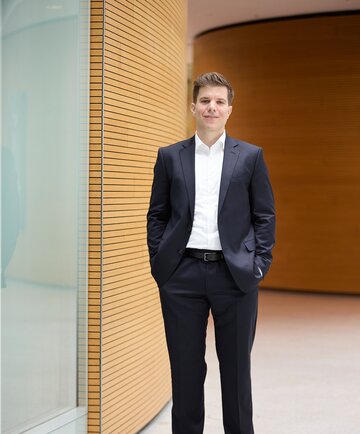 "…but when you take an in-depth look, you see what's real, and that's always simple."
Peter Kalle's practice focuses on the electrical, electronics, telecommunications, computing and software fields.

Peter got a Bachelor's degree in physics from Humboldt Universität zu Berlin, and a Master's degree in Physics from Technische Universität Berlin. He then worked as scientific staff at the Institute of Theoretical Physics, Technische Universität Berlin, where he studied the nonlinear dynamics of viscoelastic fluids at low Reynolds numbers. After that, HOFFMANN EITLE's Electrical Engineering practice group allowed him to quickly familiarize himself with the subtleties of modern telecommunication techniques, the field of software‑related patents, and the details of European- and German Patent law.

Having grown up in the city of Cologne, and having spent some years in Berlin, Peter presently lives in Munich. He enjoys the wide variety of backgrounds provided by HOFFMANN EITLE's national and international clients.

Taking an in-depth look at each case, Peter will give you the straight to the point, simple and helpful advice needed on the case at hand.

In his spare time, Peter is usually found either doing sports, or at the next café around the corner. If Peter cannot be found, he will most likely be out of town, traveling.
B.Sc. Physics, Humboldt Universität zu Berlin
M.Sc. Physics, Technische Universität Berlin
German Patent Attorney
European Patent Attorney
German Patent Attorney Bar Association