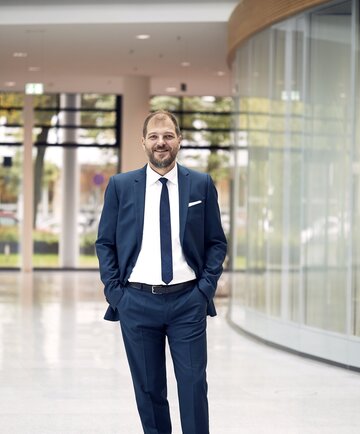 In-depth analysis paired with passion to give clients the best results across multiple jurisdictions
Daniel Goller is an experienced patent attorney with a passion of getting to the bottom of things – and talk about it! Trained as a physicist, he places the scientist's analysis and communication skills at the heart of his practice which has allowed him to successfully advise clients across such diverse fields of technology as composite materials, spectroscopy, lithography, household appliances, medical instruments and industrial machinery and processes. For HOFFMANN EITLE's clients, both small and medium sized companies as well as multinationals, Daniel handles all patent-related activities, from drafting and prosecution to litigation and enforcement of patents and utility models. With his triple qualification as German, Italian and European Patent Attorney in combination with local knowledge, Daniel's services are frequently sought when litigating in multiple jurisdictions, in particular involving Italy and Germany. He is a regular speaker at seminars about patent law in Italy, and as part of the in-housing training at clients.

Daniel joined HOFFMANN EITLE in 2004 and qualified as German and European Patent Attorney in 2008 and Italian Patent Attorney in 2010. He is Partner in the Mechanical Engineering practice group and co-director of HOFFMANN EITLE's office in Milan. Prior to joining HOFFMANN EITLE, Daniel has worked as a researcher at the Cavendish Laboratory, University of Cambridge, where he obtained his Ph.D. in physics with a thesis on structural relaxation in high-purity silica glass. The industry-sponsored part of his research was focussed on the improvement of deep-UV lithography lenses, in close collaboration with the R&D department of a major European glass manufacturer.

When not in the office, Daniel likes to drive his motorcycle across the Alps or work on restoring his vintage Vespa. He has an enduring love for Italy and tries to spend as much time as possible there. Daniel speaks fluently German, Italian, English and Czech.
Laurea in fisica (M.Sc. in Physics) at the University of Florence, Italy (1999)
PhD in physics at the University of Cambridge, Clare College, UK (2004)
German Patent Attorney
Italian Patent Attorney
European Patent Attorney
German Patent Attorney Bar Association
Italian Patent Attorney Bar Association
epi
LES Italia
Institute of Physics