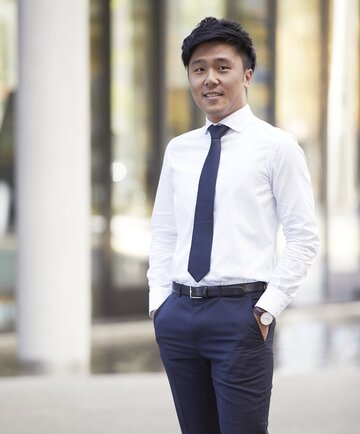 A pragmatic IP specialist equipped with western efficiency, eastern modesty and Kiwi friendliness
Dongman, or Kim, as he is more often called by his last name, has particular experience in drafting and prosecuting patent applications, oppositions before the EPO and freedom to operate opinions in a range of practice areas in the mechanical field including medical devices, automotive technology, air conditioning, sealing systems for extreme conditions, hygiene articles and wingtip devices of fixed-wing aircrafts.

Prior to joining HOFFMANN EITLE, Kim studied Mechatronics Engineering at the University of Auckland with a final thesis in the field of obstacle avoidance and autonomous driving. He then studied Computational Mechanics at the Technical University of Munich with a final thesis in cooperation with BMW Group in the field of passive safety and crash simulation. During his studies, he was a visiting scholar at ENSTA ParisTech (École Nationale Supérieure de Techniques Avancées) and at the Polytechnic University of Madrid. After joining HOFFMANN EITLE, Kim further obtained the Certificate in Intellectual Property Law from Queen Mary College, University of London.

Kim was born in South Korea, raised in New Zealand and now resides in Germany. Kim has also gained practical industrial experience in the Philippines and the United Arab Emirates at leading multinational companies including Samsung. He has further gained experience in Korean IP practice at leading patent law firms in South Korea. With a strong multinational background, Kim is capable of providing sophisticated, high-quality legal services tailored to the needs of international clients.

Away from the world of Intellectual Property, Kim is found somewhere in the world travelling with a camera in his hand or somewhere on the west coast of New Zealand on his surfboard.
B.E.(Hons) in Mechatronics Engineering at the University of Auckland (NZ)
MSc in Computational Mechanics at the Technical University of Munich (Germany)
PGCert in Intellectual Property Law at Queen Mary College, University of London (UK)