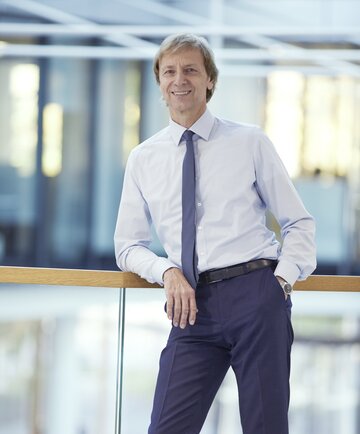 An experienced IP professional with a high-quality approach
Matthias Kindler, a German and European Patent Attorney, is a senior partner and co-head of the firm's chemistry practice group. He has more than 30 years of experience in IP, and represents and advises clients in particular with regard to patents in the field of chemistry.

Matthias' main working areas cover patent application proceedings, opposition and appeal proceedings, nullity actions, patent infringement litigation and legal opinions. He has particular expertise in the field of pharmaceuticals, cosmetics, washing and deterging compositions, foodstuffs, polymers and electrochemistry. Matthias is a specialist in supplementary protection certificates (SPCs) and he has handled multiple cases in SPC matters before the German Federal Patent Court, the Federal Supreme Court (Idarubicin, Sumatriptan, Pantoprazol, Anti-helicobacter-preparation, Doxorubicin sulfate) and the European Court of Justice (C-392/97 - Farmitalia Carlo Erba s.r.l., C-31/03 - Pharmacia Italia).

He has also given numerous lectures on patent law in Germany and abroad.

His working style is characterized by detailed and careful analysis of the factual and legal situation, development of the best possible strategy for the client, and a strong and convincing representation of the client before the IP offices and courts.

Matthias Kindler studied chemistry at the University of Regensburg and graduated in 1981. His doctoral thesis in 1985 centered on electrochemical aspects in the development of lithium batteries.

Before starting his IP career, Matthias gained industry experience in the research, development and production of semiconductors (Siemens AG) and of printing inks (Michael Huber München GmbH).

When not at work, Matthias enjoys playing sports (tennis, skiing, fitness) and he is also interested in politics and cultural events.
University of Regensburg – Diploma and Ph.D. in Chemistry
German Patent Attorney
European Patent Attorney
German Patent Attorney Bar Association
epi
Society of German Patent Attorneys
Society of German Chemists (GDCh)
The Legal 500:
"The work of Matthias Kindler in the area of chemistry stands out"
"Matthias Kindler is recommended for the area of chemistry" (English translation)
"Some of the patent attorneys, such as Matthias Kindler, are considered 'very experienced in litigation'" (English translation)
JUVE German Commercial Law Firms 2020/2021:
Matthias Kindler recommended as patent attorney (patent right)