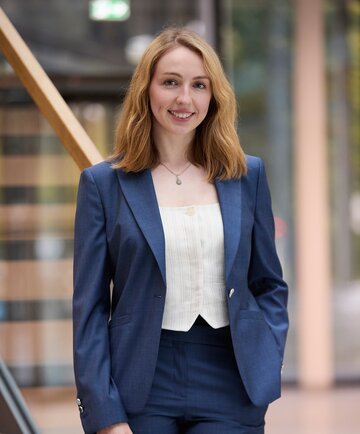 Prior to joining HOFFMANN EITLE, Eve O Connor studied electrical and electronic engineering with a particular focus on telecommunication technology and systems design. During this time, Eve also gained industry experience through internship programs, including with a leading company in the semiconductor industry, where she worked on projects relating to post-synthesis IC design and verification, as well as in the automotive industry.

Eve draws on this experience in her current role protecting and managing intellectual property in the electrical, electronics, telecommunications, computing and software fields. Working with a variety of clients from all over the world, Eve specializes in patent drafting and prosecution before the European Patent Office and the UK Intellectual Property Office as well as oppositions at the European Patent Office. Eve also enjoys working with local representatives around the world, including in China, Japan, the United States, and India, to gain insight into patent practice in different jurisdictions.

Eve has been qualified as a European Patent Attorney and British Patent Attorney since 2021.

Having moved to Germany in 2018, Eve enjoys exploring her adopted country in her free time, as well as painting and drawing.
B.A.I. (Trinity College Dublin) in Electrical and Electronic Engineering
Certificate in Intellectual Property Law (Queen Mary College, University of London)
British Patent Attorney (2021)
European Patent Attorney (2021)