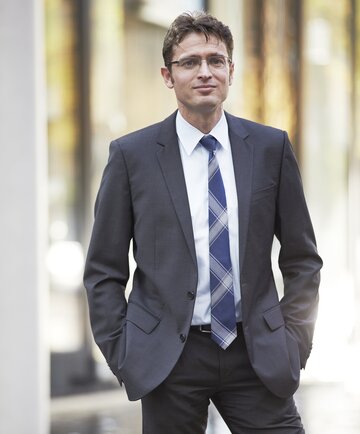 An experienced IP professional who bridges intercultural differences
Andreas Beer is a European patent attorney in HOFFMANN EITLE's mechanical engineering practice group. Since joining the patent profession in 2008, he has gained extensive experience in examination and opposition proceedings before the German, Japanese and European Patent Office, in particular in the fields of automotive with an focus on injection-systems, transmission and lightning, printing technology, production- and handling technology, hydrogen applications, tobacco products, or aerospace engineering.

Before joining HOFFMANN EITLE in 2015, he has undergone an apprenticeship to become a draftsman at Rohr Fahrzeugwerke (1996 – 1999). Obtained his degree in mechanical engineering from the University of Applied Sciences Regensburg focusing on production engineering and automation. During his studies, he worked as a trainee at Astrium Ltd. – Launcher Elements (Friedrichshafen). He wrote his diploma thesis on solar-generators for satellites at Astrium Ltd. (Ottobrunn). From 2004 until 2007 he worked as project manager and construction engineer at Limberger Maschinenbau GmbH. Afterwards, he became project manager at Sonplas GmbH a leading manufacturer of test benches and calibrations systems for injectors (2007 – 2008). He started working in the filed of IP for Sonderhoff&Einsel in Tokyo/Japan (2008 – 2015). Responsible for assistance in prosecution, litigation and licensing, as well as managing a department with over 50 employees, he gained a broad intercultural understanding that benefits him greatly in his work at HOFFMANN EITLE. Andreas Beer also gained language skills in Japanese through his work at Sonderhoff&Einsel in Tokyo.

Clients turn to him because of his straightforward, clear and practical advice, as he has not only experience in the IP field, but has also worked as a mechanical engineer for several years. This knowledge of the entrepreneurial side is highly appreciated by many clients.

When away from the office, he can be found hiking, cycling, snowboarding and enjoying the beautiful alpine landscapes. He also loves traveling.
University of Applied Science Regensburg – Diploma in Mechanical Engineering (2004)